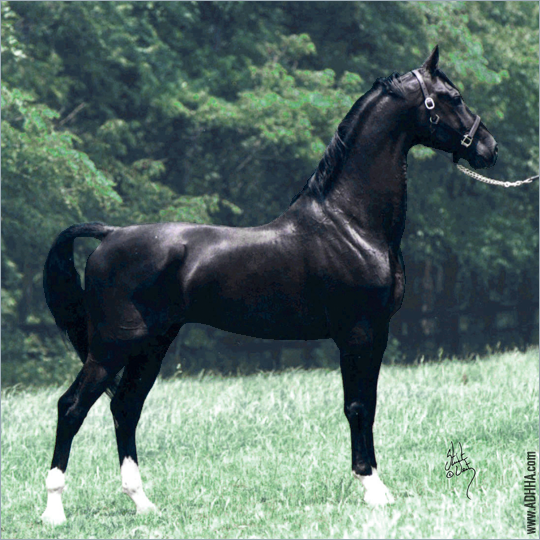 Show horse characteristics
attractive head with alert eyes and ears
well-muscled, arching neck set on high with a flexible poll
clean and well-laid back shoulder
prominent withers that are higher than the back and croup
croup is neither too flat or too sloping and never inverted
proportionate body to horse's height
hindquarter with powerful presentation
straight, clean and strong legs
well-muscled forearms and gaskins
large and round feet with well-sprung heels
high and straight carried tail
The American Dutch Harness Horse should possess conformation that is functional for its job:
a powerful driving horse which trots in cadence with high, open motion in front, forceful impulsion from behind and has a lot of suspension
A true show horse catches your eye. You don't need to analyze it. It has that undefineable universal appeal.
Correct & sound
To prevent problems in the future it is important to breed for correct and sound conformation.
proportionate body to the horse's height
croup neither too flat or too sloping and never inverted
straight, clean and strong legs
high and straight carried tail
no physical flaws
Show horse traits
To achieve the show horse look and high stepping motion it is very important that the horse is built uphill.
well-muscled, arching neck set on high with a flexible poll
clean and well laid back shoulder
prominent withers that are higher than the back and croup
well-muscled, long forearms and gaskins
hindquarter with powerful presentation
Overall quality
The show horse element requires overall quality in every single body part.
attractive head with alert eyes and ears
elegant, long neck
beauty
fine skin and healthy coat
refinement without loss of strength and power
Universal appeal
The charasmatic high stepping show horse has universal appeal.